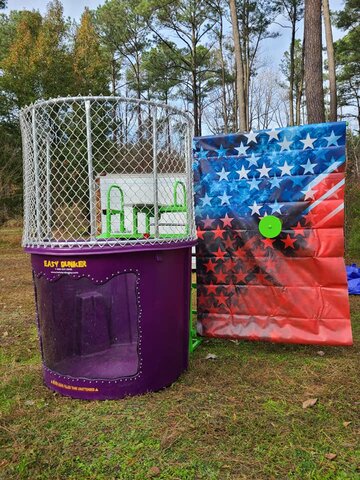 Dunk Tank USA Stars and Stripes Theme 500 Gallon
Setup Area: 10' L x 10 W x 12'6" H




Stars and Stripes USA Dunk Tank
Your spooky event will be sure to make a splash when you enjoy our Stars and Stripes themed Dunk Tank!
This 500 gallon Dunk Tank is entertainment for everyone at your event! Guests will take it in turns to throw our dunk tank balls at the green target on the zombie background, aiming to send your lucky dunkee perched on the dunking seat into the water below! The sturdy plastic spooky window on the front of the tank will allow all to witness the look of shock on the dunkees face as they make a splash! Our dunk tank features a fenced in tank to keep dunkee safe from flying balls. Tank is supplied with 3 balls.
All dunkees must be at least 5ft tall and able to swim.
Customer is fully responsible for filling the dunk tank with water. All wet items require a hose spicket within 100ft of the set up area. Our teams supply 100ft of hose however if you would like to use a water source that is more that 100ft away from the setup area you must supply additional hoses.
FREE set up and delivery in Virginia Beach, Chesapeake, Norfolk and Portsmouth!
We know planning and hosting a party can be a challenge so our teams do their best to make their time with you as easy and stress free as possible! All units are set up in your preferred location, secured, cleaned and inspected. You will recieve personalized operator attendant training with a team member, leaving you well educated and ready for a safe day of fun.
IMPORTANT
We require an entrance to your space of at least 6 foot in width and a clear path leading up to your set up area. This Dunk Tank is mounted on a trailer and must be wheeled into place. It cannot be passed over fences or walls. Must be set up on solid level ground.
Ideal for a max of 1 user up to 250 lbs
Maximum total weight of 1,000 lbs.
Minimum user height 5ft

Set Up Area 10' L x 10 W x 12'6" H