Frequently Asked Questions
Q: Does the price include set up and delivery?
A: Yes, although additional fees may apply for areas farther out. Remember prices do not include sales tax. Look at our Delivery Area
Q: Do you deliver to other cities?
A: Yes, but once again please be aware that due to rising gas prices and the possible need for an extra truck and labor that travel fees can be quite high. Please call our office for a current quote.
Delivery to Virginia Beach, Norfolk, Chesapeake and Portsmouth is Free.
Click here for for more info on our delivery area

Q: Does the standard 6 hour rental time include your set up time?
A: No. We arrive 1 to 6 hours early to set up so you get the entire rental time to play. We will call you the day/night before your rental to let you know an approximate delivery time. We will also come back upto 4 hours after your end time. We prioritise Schools and Churches and Public Spaces due to the time sensitivity of these locations.
Q: When do you set up?
A: That depends on how many rentals we have that day. Generally we arrive 1-6 hours before the rental time begins. If we have a lot of rentals that day, we may need to set up as early as 6 hours in advance. If this is the case, when we call the day before to confirm we will check that someone will be at the party location to accept delivery.
Q: We've rented some really dirty jumps from other companies in the past. Are they always that dirty?
A: No. The jump should be clean when you get it. Virginia Beach Inflatables cleans and disinfects after every rental and cleans before use when neccessary.

Q: Can we run a cord/hose accross a Road, Parking lot or Sidewalk?

A: No we cannot run a cord or hose accross a Road, Parking Lot or Sidewalk if there is going to be any traffic what so ever. We suggest you rent a generator to avoid this as we will not be able to setup or supply a generator without it being booked in advance and may result in us not being able to set up and no refund will be given.
Q: Do we have to keep it plugged in the entire time?
A: Yes. A blower keeps air in the jump unit the entire time so it needs to be plugged in whilst in use. Once unplugged they deflate. That's why we require a power outlet within 100ft of the unit or a generator. Longer cords can pop your circuit breaker so we bring our own heavy duty cords.

Q: Water Inflatables

All water inflatables and Dunk Tanks need to be located within 100ft of a hose spicket. We supply 100ft of hose with all Water Inflatables and Dunk Tanks. You can use more of your own hose. If there is not a spicket within reach we will leave the inflatable with the water not connected. We do NOT supply water.
Q: What about parks?
A: We no longer setup at City Parks for private rentals. Larger Events will be considered but you will have to call us on 757 995 7139 to get approval. All bookings placed without pre approval will be cancelled.
Q: What payments do you take?
A: We take Visa, Mastercard, Discover and American Express. We no longer take cash due to customers not prepared to pay at time of delivery. Our deliveries are time sensitive as we want to have everyone's party rental set up on time and we cannot wait more then 15 minutes once we arrive to begin set up. Checks are not accepted due to the number of returned checks.
Q: What if we need to cancel?
A: You have up until 5pm on the evening prior to the booking to cancel your Rental, We will transfer your reservation fee (Minimum payment required to secure the rental) to another date or you can cancel and receive a rain check that can be used for up to 24 months from your original rental date but reservation fees are non refundable.
Q: Do you require a deposit?
A. All orders require a 20% or $50 minimum (whichever is greater) Credit Card reservation fee. All minimum payments required are non refundable.
Q: How big are the jumps?
A: ALWAYS measure your space to make sure it will fit. Jumps need room to be staked in and they need room for the blower and can't rub against walls or trees as this may damage the jump. The Setup area is listed with each jump and include the space needed for stakes and a safety zone around the inflatable.
Q: What about the big jumps? Any special requirements?
A: Check the requirements listed with each jump. Also, make sure you have at least a 4ft clear access to the area where it will be set up. The jumps can weigh up to 700 pounds so we need a clear path with ample room. (Our 22ft Slide, Tiki Obstacle Course, Surf Obstacle Course, 19ft USA Slide, Thunder Slide, Polar Plunge, T-Rex Slide, Ninja Wall and Wrecking Ball require 5ft clear access)
Q: What surfaces do you set up on?
A: We can set up on grass. If setting up on asphalt or concrete it needs to be cleared and swept prior to our arrival. Sorry, we can't set up on any type of rocks as the constant rubbing will wear through the vinyl jumps.
Q: Can we see a copy of your contract and safety rules?
A: Yes. There is a link in your receipt once you've ordered.
Q: Are we responsible for the unit if it gets a tear or damaged in any way?
A: Yes and no. You are not responsible for normal wear and tear on our units. Seams may develop tears in high traffic areas over a period of time. If this happens please alert us at once so we can remedy the situation. If however, damage occurs due to failure to follow our safety rules or negligence (ie Sharp objects or failure to follows the rules posted on each inflatable) you will be responsible for all damages up to and including replacement of the unit/blower etc which can cost thousands of dollars. We don't want you or us to be in that situation which is why we have you sign and initial on all of our safety rules so that you can be the trained operator. Accidental damage waiver is available at checkout for an extra 10% of the rental total.

Q: Can we deliver to Military Bases?

A: Yes we can deliver to military bases but we do not have base access/ID so this is the renters responsibility to arrange. We cannot be held responsible for problems or failed deliveries due to failure of access to the base. We can only wait a maximum of 20 minutes to gain access and no refunds will be given whatsoever.

Q: Is my organization tax exempt?

A: For non-profit organizations to be exempt from paying sales tax on rentals they must provide Virginia Beach Inflatables with a Retail Sales and Use Tax Certificate of Exemption. The organization that is on the Tax Exempt Certificate MUST be the same organization that is paying for the rental.
The Tax Exempt Certificate is issued by the State of Virginia Department of Taxation.. The Certificate is NOT issued by the IRS or the Virginia PTA. Only the State of Virginia can exempt an organization from paying sales tax. The IRS exempts organizations from paying INCOME tax, not sales tax.
PTAs must have a Retail Sales and Use Tax Certificate of Exemption that is issued by the State of Virginia Department of Taxation. This Certificate will have an effective date, expiration date and exemption number on the upper right side. The PTA's name and address will be printed directly on the certificate. PTAs can NOT have a Certificate that is hand written. PTAs can NOT use the school's Tax Exempt Certificate because the PTA is NOT part of the school system, the PTA is a separate organization for tax purposes.
Schools (Not PTAs) and Government organizations can use Form ST-12 and hand write or type the information.
Churches must meet a few extra criteria before they can be exempt from paying sales tax. The criteria are listed on Form-13A...please pay special attention to section 1b. Section 1b states that the rental must be set up INSIDE the church sanctuary. Rentals that are set up outside are not sales tax exempt, meaning the church MUST pay the sales tax.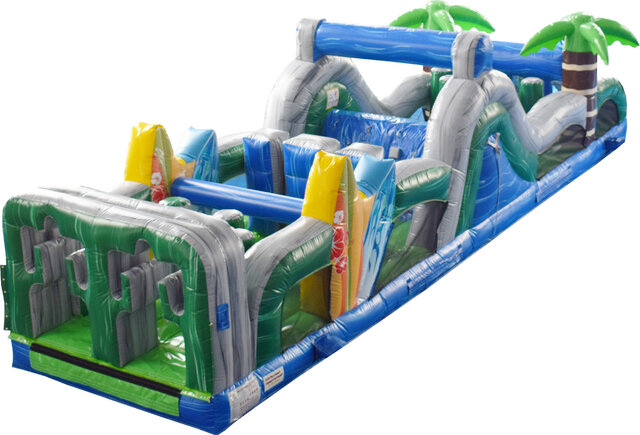 Still have a question? Call or Write: virginiabeachinflatables@gmail.com (757) 995 7139