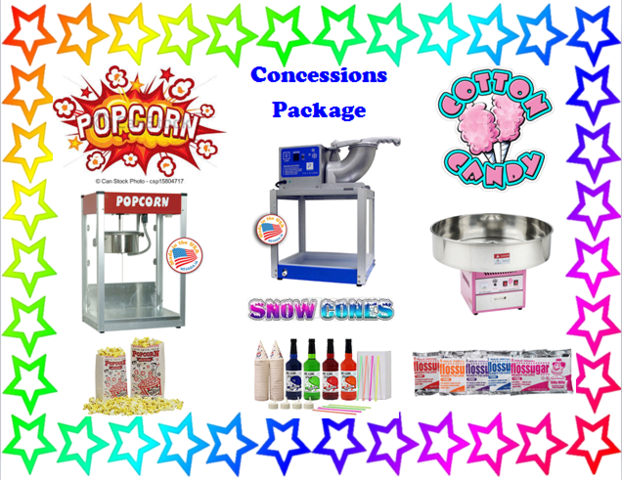 Concessions Package
Concessions Package
Make your event extra special with all the fun of the fair when you choose to enjoy our Popcorn Machine, Cotton Candy Machine and Sno Cone Machine!
There is nothing better than the taste of butter popcorn, freshly spun cotton candy and icy cold sno cones to make your backyard party or event extra special! Our machines come with 50 servings worth of popcorn kernals and butter, cotton candy sugar and sno cone juice as well as 50 supplies of popcorn bags, cotton candy cones and sno cone cups! Upon set up our team will give you a face to face training session on how to run your machines.
Includes two 6ft tables for your concessions.
Make sure you choose two Sno Cone flavors and one Cotton Candy flavor, let us know in "customer notes" when you check out!
Sno Cone Flavors:
- Blue Raspberry
- Cherry
- Strawberry
- Pink Lemonade
- Lime
- Tigers Blood
- Orange
- Watermelon
Only available in gallon bottles (for 100+ supplies only):
- Grape
- Bubblegum

Cotton Candy Flavors
- Blue Raspberry
- Pink Vanilla
- Birthday Cake
- Strawberry
- Watermelon
- Citrus Passion Fruit
- Pumpkin Spice
- Banana
- Green Apple
- Cherry Lime
- Sour Berry
- Grape
- Chocolate
FREE set up and delivery in Virginia Beach, Chesapeake, Norfolk and Portsmouth when you spend $150 or more
We know planning and hosting a party can be a challenge so our teams do their best to make their time with you as easy and stress free as possible! All concessions are set up in your preferred location, secured, disinfected and inspected. You will recieve personalized operator attedant training with a team member, leaving you well educated and ready for a safe day of fun.
We require an entrance to your space of at least 3 foot in width and a clear path leading up to your set up area.

Set Up Area 2' L x 2' W x 3' H
Actual Size 2' L x 2' W x 3' H