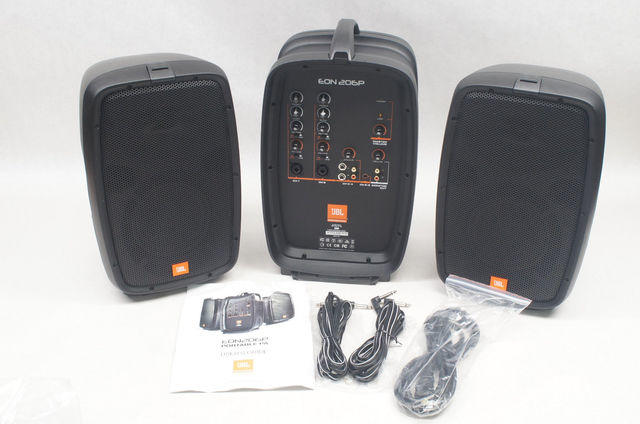 Speaker Package
Outlets: 1
Attendants: 1 (Not Included in Price)




PA System. Ideal for plugging your ipod or phone into for that little bit of a boost so your music can be heard at your party.
Comes with tripod speaker stands.
Technical info as follows-
JBL EON206P is a self-contained, portable PA system featuring multiple input channels with individual tone controls, reverb and convenient sound output capabilities that allow the user to integrate the system into any number of audio environments. Whether you're a musician, singer, DJ, teacher or anyone in need of a truly compact and portable system, the EON206P has all the features you need to deliver your message.
Portable & Easy to Use
JBL EON206P powered mixer panel and dual full ranged speakers combine to form a convenient suitcase-like package that's light enough to carry in one hand! Complete with power and connection cables that go into their own storage space designed to neatly tuck them into when your done. Weighing in at only 25lbs, anyone can juggle an instrument and the EON206P Portable PA System at the same time. Perfect for cafes, parties, churches, conferences, small groups and more.
Powered Mixer Input Panel
The attached mixer has 6 inputs: 2 mono inputs comprised of a combination input connector, MIC/LINE selector, Treble and Bass controls, Reverb and channel volume controls. The 4 stereo inputs are where you can connect all of the microphones, musical instruments and external sound sources (like MP3 or CD players).
The stereo inputs labeled "CH 3/4" offer the option of using RCA with a volume control. The input labeled "CH5/6" is a 3.5 mm stereo input of the type typically found on personal music players. The "Monitor Out" enables sourcing to recording devices, additional powered speakers or mixers via RCA connectors.
Power Rating 160 W (2 X 80W)
Inputs 6 inputs (2 Mono Mic/Line, 2 x Stereo' 1 3.5" mino for CD players, etc.)
Series EON
Other Features On Board DSP Limiting and Tuning; "Monitor Out" enables sourcing to recording devices, additional powered speakers or mixers via RCA connectors
Model 206P
Maximum SPL N/A
Frequency Range 64Hz – 22kHz @ -10dB
Channels 6
Phantom Power N/A
EQ Yes
Computer Connectivity N/A
LF Driver Size 6.5"
MF Driver Size N/A
HF Driver Size .75"
Weight 25 lbs.
Dimensions 20.9"H X 27.8"W x 13.4"D
Outputs Main; Monitor (Stereo RCA)
Mic Preamps N/A
Outputs-Main 1/4" Out
Outputs-Direct Monitor (RCA)
Aux Sends 0
Faders 5
Channel Inserts 0
Effects No
Powered Yes
Reverb Yes