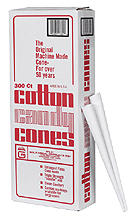 Cotton Candy Supplies
Cotton Candy Supplies
Make your event extra special when you choose to enjoy extra supplies of Cotton Candy!
There is nothing better than the taste of freshly spun cotton candy to make your backyard party or event extra special! Enjoy an extra 50 servings worth of sugar as well as 50 cones to hold your cotton candy, just like the fair ground!
Make sure you choose either Pink Vanilla or Blue Raspberry sugar and let us know in "customer notes" when you check out!